It's beginning to look like fall!!

And that calls for a cozy sweater and a crisp morning walk....and maybe a warm latte....and pumpkin anything. I'll admit, when it comes to this time of year it's pumpkin everything around my house! I've been dreaming (yes, actually dreaming) of Pumpkin Spice Lattes for days now. You know, the ones that I always see on the Starbucks sign that I can't have? Yeah. Those ones. : ( It gets me down every year. They are my absolute favourite!! So this year, I thought I would search the internet and play around in the kitchen to find the perfect pumpkin spice latte, sans dairy and sugar. The end result....DIVINE!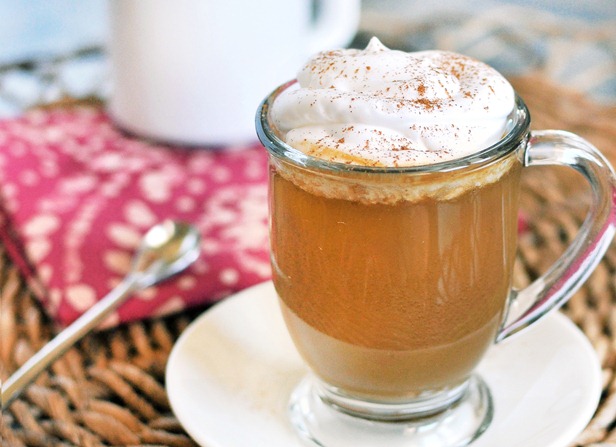 (Serves One)
3 T canned pumpkin
1/2 scant tsp pumpkin pie spice
1 1/4 cup of coconut milk (or milk of your choice)
1 tsp pure vanilla extract
1-2 ounces of espresso (or strong coffee)
sugar, maple syrup or stevia to taste
Whisk everything but the espresso in a small pot until hot, but not boiling. Add the espresso, sprinkle with a pinch of pumpkin pie spice if you like and ENJOY! The espresso covers a bit of the pumpkin pie taste, but it still comes through with incredible flavour. If you don't enjoy coffee or just want a nice fall drink (just like pumpkin pie in cup!), skip the espresso and it is equally as delicious.
AND for an extra special treat, try making this dairy-free whipped cream and top off your drink!
from: http://chocolatecoveredkatie.com/2011/08/16/vegan-cool-whip/
(sugar-free, dairy-free, soy-free, and gluten-free)
1 can coconut milk
sugar, stevia, or powdered sugar to taste
optional: fruit (banana whipped cream, anyone?)
optional: cocoa powder (for chocolate whipped cream!)
Open your coconut milk, and leave the can (or transfer to a bowl) uncovered in the fridge overnight. It should get very, very thick. (If it doesn't, you've gotten a bad can that won't work for the recipe. I highly recommend Thai Kitchen Organic or another brand that doesn't have "water" listed as an ingredient.) Once thick, transfer to a bowl and whip in your sweetener with a fork, or even beaters, if you want to be really fancy. Stored uncovered in the fridge, the mixture gets even thicker!
I promise you, once you taste this lovely drink you will be happy to make the transition from summer to fall!!
Happy pumpkin dreams to you! xo